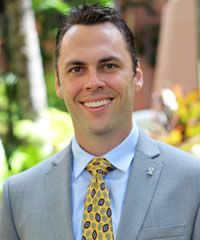 Name: Frank Rodgers
Organization: The Royal Hawaiian, a Luxury Collection Resort
Quick Bio: Born and raised in San Diego, graduated from the University of Hawaii at Manoa. Returned to Honolulu after several years in Japan and am bilingual. Joined the Royal Hawaiian sales team after working as a Meeting & Event Manager for the Starwood Waikiki complex.
What is your favorite part of being a new SITE member? Being able to meet so many great colleagues and share my property with them.
What are you hoping to gain from being a SITE member? Networking with the best in the industry.
Why did you decide to work in the incentive travel industry? I wanted to grow our business and be on the leading end of our sales and catering team. While there is something very fulfilling about servicing groups, I really enjoy helping clients and their third party partners build their vision for their incentive programs and show them everything we can do in Hawaii.